Ingredients:
1 cup of cooked chickpeas.
2 large onions.
2 dried red chilies.
¼ cup of ginger.
3 garlic cloves.
½ teaspoon of mustard powder.
1 teaspoon of cumin.
½ teaspoon of turmeric.
¼ teaspoon of cinnamon.
2 tablespoons of vegetable oil.
Salt, to taste.
Directions:
Peel and cut the onion.

Cut the ginger into small pieces.

Put these ingredients, along with garlic cloves, mustard powder, and cumin powder in a blender; blend into a paste.

Over a medium heat add oil to a pan.

Sauté the condiments.

Once the spices become thick, stir and cook for 5 minutes.

Add the cooked chickpeas.

Turn over contents of pan.

Add 2 tablespoons of water and salt.

Add the cinnamon powder and turmeric powder.

Stir the pan.

Cook for 8-10 minutes.

Serve hot.
Back to the Chickpea Recipes home page.
Reviews and Comments:
Chickpea Curry Review by Curry Monster on March 5th, 2012:
Throw in a handful of fresh coriander and you got a lovely dish.
Comment by Tim on March 19th, 2012:
It'd help to say how many this should serve, and perhaps give metric measurements too (for the rest of the world)
Comment by Kenneth on March 21st, 2012:
Cup equals 250 ml
tsp 5ml
tbsp 15ml
Hope this recipe is good! I'm going to try it out!
Chickpea Curry Review by Farchard on September 13th, 2012:
I tried this out, didn't have garlic, or ginger... added some garam masala and a little tamarind paste... it was really good
Data:
Published: June 7, 2009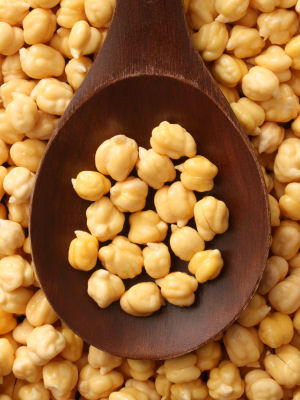 Similar Recipes:
Sweet and Spicy Chickpea Curry
Sweet, spicy, and delicious, this unusual curry features turkey, tomatoes, coconut milk and chickpeas for a memorable and delec...
Potato Curry
A traditional Indian dish that is a hearty and easy dinnertime entree. The versatility of this curry dish means you can add wha...
Chicken Celery Casserole
A delicious comfort food perfect for cold winter nights, this Chicken Celery Casserole is the perfect way to make any meal memo...