Indian Curried Chickpeas

recipe
Indian Curry is a great way to spice up dreary winter nights, and this easy Indian Curried Chickpeas recipe will liven your weeknight dinners with zesty spices and savory flavors. Tender chickpeas take center stage and are simmered to perfection in a traditional Indian curry. Serve over rice, and mop up the leftovers with naan for a tasty treat any time.
Ingredients:
2 Tbsp vegetable oil
4 cloves garlic, minced
½ c. onion, chopped
1 tbsp ginger root, grated
1/8 tsp garam masala
2 tsp channa masala spice mix
1 large tomato, finely chopped
1 ½ c. chicken stock
2 (15 oz) cans garbanzo beans, drained and rinsed
salt, to taste
Directions:
In large saucepan heat oil over medium heat. Add garlic, onion, and ginger, and cook until browned and aromatic.

Add garam masala, channa masala spice, tomatoes, broth, and garbanzo beans. Season to taste with salt.

Bring to a simmer, then reduce heat to low. Cover, and simmer 20 minutes or until beans are soft and liquid has reduced slightly.

Serve over white rice, topped with fresh yogurt if desired.
Author:
Back to the Chickpea Recipes home page.
Data:
Published: April 13, 2012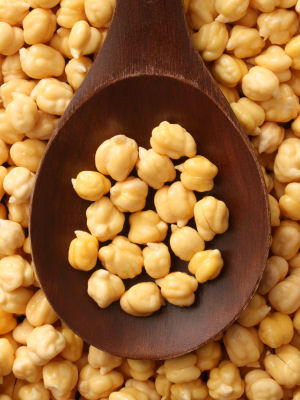 Similar Recipes:
Roasted Chickpeas
Chickpeas are a simple addition to any meal; they are easy to prepare, bursting with flavor, and unbelievable healthy. Harness ...
Indian Yogurt Chicken
This Indian-inspired chicken dish is easy to prepare, and simply bursting with flavor. Tender chicken is simmered in a spicy sa...
Curried Chicken Salad
Chicken salad is a delicious and easy way to use up leftover chicken, and a satisfying meal whether served for a light dinner o...